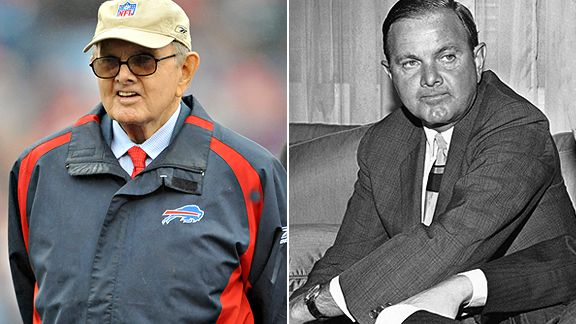 Their stories couldn't be more different.
One has instantly been dubbed the savior of sports in Buffalo. The other, his success long withstanding, has free-fallen from the good-graces of Buffalo sports fans everywhere.
One's name is so graceful, it could be sung amongst the heavens. The other's name is, well.. Ralph.
But why such a difference?
In a sports world where what-have-you-done-for-me-lately means everything, it should be relatively obvious why Terry Pegula and Ralph Wilson Jr. are on the opposite ends of the Owner Popularity Scale.
Pegula is a bright, shiny new figure in the minds of Buffalo sports fans. Six months ago, the man wasn't even a blip on our radar.
Pegula who? Is that Italian? At least that's what we would have said last December when the Sabres seemed headed down the dreded road of losing that Buffalo fans have become all too familiar with in the past.
Oh, and it's Russian by the way, as one of the Pegula daughters has been very quick to point out.
In just months, Pegula has "rescued" the Sabres from a businessman owner concerned only of a bottom line and transformed them into one of the NHL's premier hockey destinations and financial powerhouses.
The things Pegula has accomplished in mere months at the helm of the Sabres are things Wilson has failed to come even relatively close to accomplishing in a decade.
Granted, the results have yet to be seen from the scorecard aspect, but Pegula has told Sabres fans everything we've wanted to hear. And more importantly has followed up on those promises.
It's been a dream come true.
Wilson, however, is the dark to Pegula's light.
Unlike Pegula, Wilson got his start a long, long time ago as one of the AFL's original owners.
He was one of, if not the main hand in orchestrating the league's merger with the NFL in 1970. If it wasn't for Wilson, the scary reality is Buffalo would not have a football franchise to call our own this very day. But, a once proud Bills franchise has turned into the laughing stock of the NFL and finds itself in the midst of a 12-year-long playoff drought.
If this pace continues, Ralph Wilson will be credited for chasing the Bills out of Buffalo just as much as he is for bringing them here in the first place.
Pegula has made his goal simple: bring multiple championships to the city of the hockey team he loves so much.
Wilson's goal is, um, well, do we even know what his goal is anymore?
It's easy to say that at age 92 he's just simply in it for the money now.
It's very simple to make a profit in the cash-cow we all call the NFL these days.
With revenue sharing and all that jazz, Wilson is making more money now than he probably could have ever imagined when he bought the team in 1957 for what today seems like mere pennys.
But with Wilson's long life seemingly approaching the end, honestly why would he care about money? If he did, wouldn't he just sell the team for the hundreds of millions of dollars an NFL franchise now commands. So why doesn't he save Bills fans the agony and do us all a service and sell the team?
It's because his ego won't allow it. He doesn't want to give up his little pride and joy, and so we're stuck along for the ride until he moves on.
Every day that passes though it seems the future owner of the Bills will have to pry the franchise from Wilson's cold, dead hands.
Sure, most of the memories are great with Wilson at the helm. From all the way back to the Bills' AFL Championships in 1964 and 1965 to most recently with the team's four consecutive Super Bowl runs in the early '90′s. But it's the most recent memories of losing and dysfunction that are beginning to stain Wilson's great legacy.
Following the Bills' last postseason run in 1999, Wilson is the orchestrator of a continuously growing line of terrible personnel decisions which have led to even worse player signings and a string of failed draft choices. In other words, Wilson created a recipe for disaster that has harmed everyone but himself.
If you want to look way back, a case can be made the Bills' turn for the worse began when Bill Polian was fired by Wilson, but at least the team remained competitive for a few years afterwards. I mean, since then, Polian has gone on to draft one of the best quarterbacks to ever play the game and parlay that into an eventual dynasty that would go on to win a Super Bowl.
Hm, what could have been.
Polian drafted Peyton Manning in '98, Donahoe took Mike Williams in '02.
To me though, Wilson's flawed philosophy for winning became apparent after firing Greg Williams in 2004.
Since then, Wilson became overly conservative when hiring his coaches and personnel.
Mike Mularkey was anything but the best candidate for the job. Sure, he had a shiny track record as a bright offensive mind in the NFL after his stint with the Steelers, but his offensive schemes were ineffective at best with the Bills.
Dick Jauron seemed like a good thing at the time. At least the guy had some head coaching experience in the past.
It turns out Jauron was merely hired to mask Wilson's lack of desire to make the Bills competitive again. The Jauron era ended after three mediocre seasons marred by terrible draft choices and a lack of any decent free-agent signings.
And lets be honest, as great a coach Marv Levy was, he sucked as a GM. Plain and simple. The return of Levy was meant to serve one purpose, and that was to play the role as Wilson's very own puppet and provide Bills fans with false hope.
Now, I'll probably catch some flack from you optimistic Bills fans here with this one and it should be said that I try to remain as optimistic as I can about the Bills (it has become very difficult as of late), but I'm also a realist. And from what I've seen to this point, the hiring of the two geezers Buddy Nix and Chan Gailey to "resurrect" the franchise is likely headed towards becoming the newest addition to Ralph's flawed idea of building a competitive team.
We gave Nix the benefit of the doubt upon the news of his hiring, but coming up short and hiring Gailey as head coach when the likes of Bill Cowher and Mike Shanahan presumably could have been had for the right price is an abomination.
Yeah sure, it appears as though Nix and company have made the right draft picks so far with Dareus and others (Spiller could make or break the GM), but we also though that when the Bills drafted J.P. Losman and Lee Evans, and look where that got us.
In fact, things have gotten so bad of late at One Bills Drive that even the well-reserved running back Fred Jackson let his opinion be heard regarding the franchise last week. Jackson is no prima donna, so to me a player like Jackson knocking the franchise like he did is a major red flag in my mind.
Meanwhile, Pegula is flashing his life earnings and devoting all his time and effort to give Buffalo a quality product on the ice. Don't look now Wilson, but Buffalo is on the fast track to becoming a hockey town. Deny it all you want guys, but if the Bills continue to falter, it's inevitable.
If you ask me, what the Bills need is to hire an entire staff of young, innovative football minds to resurrect this dying franchise. That means everyone from team president, to general manager, head coach, all the way down to equipment manager.
The best teams in the NFL have built their teams from the pits of the league in this fashion.
Take the Atlanta Falcons for example. Owner Arthur Blank opened up his check book and brought in Thomas Dimitroff from the Patriots School of Winning and added head coach Mike Smith.
What has that done? Well, not only did they manage to climb out of the doldrums following the Vick dog-fighting disaster, but they have uncovered a rising superstar and franchise quarterback in Matt Ryan and have built up from there. They've gone to the playoffs a few years in a row now and remain as one of this year's favorites to represent the NFC in the Super Bowl.
The same can be said of the Steelers with the hiring of Mike Tomlin or the Chiefs with Todd Haley and Scott Pioli or the Lions with Jim Schwartz.
These are all examples of teams that appeared to be headed far from the right direction. Their owners spent money and hired the right guys.
That's what the Bills need, and it all starts with the man who pays the checks — the owner.
If you build your team with the right personnel leading the organization from the very top, then everything will in turn begin to fall into place.
The owner hires the right GM, the GM hires the right head coach, the GM drafts the franchise quarterback and wallah. It's the recipe for winning in the NFL that's so simple, but something we've forgotten the taste of as Bills fans under Wilson's poor cooking.
Before you know it, you're at the top of league again, competing.
Ah, relevancy — something any Bills fan would give anything for right now.
This all makes me wonder just how much Wilson cares of winning anymore. And if in fact he doesn't care, why won't he just save Bills fans the pain and agony of another decade of losing?
Spare us the selfishness Ralph.
It's no wonder Bills fans are beginning to turn on the greedy owner and spending their extra cash on tickets for an owner who's ready and willing to open up his pocket-books and provide a return for the fans in the form of a quality, competitive product worth paying for.
All Bills fans want is a desire to be competitive, Ralph. If you can't provide that for us, please, give us someone who will.
Have your own thoughts? Let's take this to the comments! Or, better yet, give me a follow and let me know what you think on Twitter @THWGoldSchlager.